At Decks By All Means, our goal is to make all your outdoor dreams come true. We love Trex® products for decking and railing but it does not stop there. We also recommend and install the Trex® RainEscape Deck Drainage system. Never heard of it? We will fill you in on one of our favorite tools in our decking repertoire.
What is Trex® RainEscape?
Trex® RainEscape is a revolutionary under-deck drainage system that uses a network of troughs and gutters to divert water from your deck. It shields the area below the deck from rain, snow, sun, and other elements. It provides 100% protection of the deck substructure from moisture and holds screws in place longer.
Why Trex® RainEscape?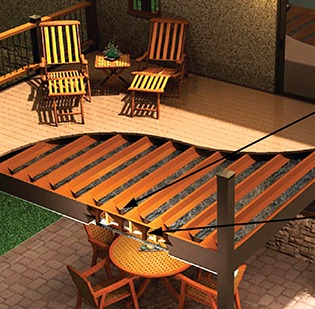 Trex RainEscape is an above-the-joist deck drainage system. An under-the-joist system allows water to run through the decking boards, over the joists, and into the drainage system below. When this happens, the joists get wet over and over and they will eventually rot causing you to have to replace them. This is why you want to make sure you have an above-the-joist system.
Double Your Outdoor Living Space
Once installed, Trex RainEscape creates a dry space beneath an elevated deck. Homeowners then have the option to finish the space by adding utilities for a ceiling fan, lighting, gas fireplace, and more. An under-the-joist system does not allow for the installation of utilities because the space below the joists is not dry.
With a Trex RainEscape system in place, you can design an outdoor living space that is perfect for your lifestyle! Ready to start making your outdoor dreams come true? Our team has years of experience working with Trex® products including decking, railings, the RainEscape system, and more. Get a free quote today!
Source: TrexRainEscape.com