At Decks By All Means, we are proud to offer Trex® composite decking, a hassle-free alternative to wood decking. Unlike traditional wood, Trex® composite decking will not rot, warp, or splinter. It does not need seasonal painting, sealing, or staining. It also never fades or stains and will not become food for termites.
Ready Whenever You Want To Use It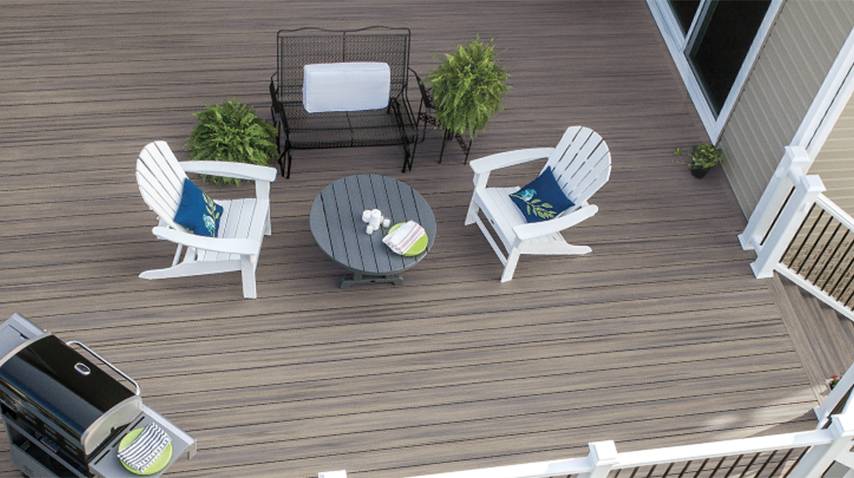 There are so many advantages to choosing a Trex® composite deck but above all, it is ready whenever you want to use it! A little soap and water or a quick power washing is all the maintenance Trex requires. Trex composite decking is durable and long-lasting. Even after 25 years, a Trex® composite deck will look and feel great!
Trex® composite decking is also environmentally friendly. It is made of 95% recycled materials. No other composite decking on the market comes close to matching Trex® for style or substance. In fact, Trex® saves 400 million pounds of plastic and wood from landfills each year. Every 500-square-foot Trex® deck contains over 140,000 recycled plastic bags.
Three Tiers to Choose From
At Deck By All Means, we only use materials that we believe in and we strongly recommend Trex® composite decking. There are three tiers of decking products that provide a comprehensive range of easy, low-maintenance options, for all price ranges. There is the Trex Transcend® Earth Tones and Tropicals, Trex Select® Earth Tones and Trex Enhance® Naturals, and Trex Enhance® Basics. We have years of experience working with Trex® and are here to help you decide what would be best for you.
Decks By All Means owner and designer Bob Means will meet with you to discuss your needs, wants, budget, and design – then build your project that will not only enhance your lifestyle but bring a return on investment in your home.
Ready to start building your dream deck or patio? Get a free quote today!
Source: Trex.com